Need to review a particular provider's schedule quickly? Or maybe you need a printout for all the provider's appointments for the next week. Looking ahead on a schedule is a great way to be prepared for what's coming up. What's the easiest way to do this?
When you need to view or print a provider's schedule, you can use the Appointment Book View report.
How To
In the Appointment Book, from the File menu, click Print Appointment Book View….
Note: Make sure you are in the correct Appointment Book view and clinic.
Select the provider and operatory you want to include in the report.
Select the date.
Select any other Appointment Display Info options you want to have visible on each appointment listed in the report.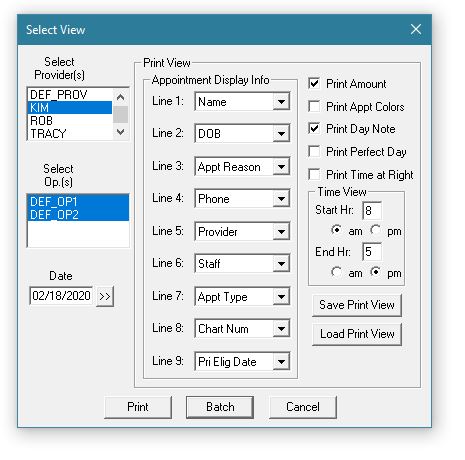 Note: You can save these settings to use again by clicking Save Print View.
Click Print to send it to the default printer or Batch to send it to the Office Manager Batch Processor.
If you want to print additional days with the same settings, repeat step 1 to relaunch the Select View dialog box, change the date, click Load Print View, and then click Print or Batch.
Additional Information